February 6, 2013
Greetings my sweet little love monkeys!
Yes, it is true, Love is in the Air! As we approach Valentine's Day and because I love my little love monkeys oh so very much, I'm giving away an e-set of my books! And what better way to do that than join in a Valentine's Day Giveaway Hop so my little love monkeys get over 100 different chances to win all kinds of cool stuff! Thanks to the lovely ladies at Under the Covers Book Blog for putting on this awesome giveaway hop!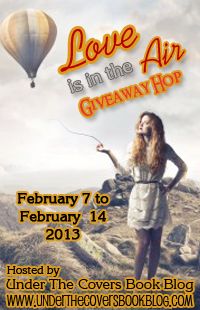 I can tell you, without a shadow of a doubt, that the best Valentine's Day gifts I've gotten for Valentine's Day are sitting on my couch right now, watching possibly the weirdest episode of Bizarre Foods. Yep, 12 years ago my twins, Erin & Emma were brought into the world, on Valentine's Day, with only fifteen and fourteen minutes to spare, respectively.  We weren't expecting them until late March so you can imagine how shocked we were when they weighed in at 5lbs 13oz EACH! Oh yeah, you read that right!
This has got to be one of my all time favorite photos of them, ever and shortly after this photo was taken they got a hold of my scissors and gave each other a haircut, chopping off all of their hair!
So, tell me love monkeys, what is your best Valentine's Day gift and/or memory?
Now onto the important b'ness! Here's where you can check out all the blogs in the Giveaway Hop!
And while you're at it, go ahead and enter to win an e-set of my books! Yep, you can win an e-copy of Cat O' Nine Tails, Clarity and Divinity! 
OH! And a big congratulations to my little love monkey, Laurie, for winning e-copies of Cat O' Nine Tails, Clarity and Divinity in the Happy Endings Giveaway Hop! I hope you enjoy Laurie!!
Well, that's all I have for you today my darlings! Enter lots of giveaways and GOOD LUCK!
Until next time,
Patty <3
PS! CHECK OUT THE HAPS OVER AT OMNIFIC PUBLISHING!! DID SOMEONE SAY KINDLE GIVEAWAY? OH YEAH!!! CHECK IT!!!

Powered by Linky Tools
Click here to enter your link and view this Linky Tools list…
This entry was posted in
blog
,
Blog Hop
,
Giveaways
. Bookmark the
permalink
.
← Happy Endings Giveaway Hop!
Happy Valentine's Day!! →
Recent Posts

Recent Comments

Archives

Categories

Meta
Patricia Leever